Dr Isabelle Frochot, a visiting associate professor of tourism marketing at the University of Tartu Pärnu College, says that she would recommend Estonia as a place to study without hesitation.
In Estonia, when one talks about a "university town", one usually means Tartu, the home of the largest and oldest university in the country. And then, of course, everyone knows the capital, Tallinn, has many universities.
It therefore comes as a surprise to many – at least for outsiders – that the somewhat sleepy, but cute resort town Pärnu, home to just about 40,000 people, also hosts a higher education institution. Under the wing of the University of Tartu, at Pärnu College one can obtain degrees in entrepreneurship, social work and tourism management. Master's degree in "wellness and spa service design and management" is taught in English and it is this programme that brought Isabelle Frochot to Estonia, by a lucky chance.
Impressed with the dedication
Originally from France, Frochot served as the president of European Travel and Tourism Research Association for few years. There, she met the current head of department of tourism studies at the Pärnu College, Heli Müristaja, who offered her a lecturing position in Pärnu.
"I was quite impressed with the dedication to the tourism at the department and the presentation at the college. She invited me to come and give lectures here – I agreed and have given the lectures ever since," Frochot recalls.
Frochot, who has almost 1,300 citations to her name, has plenty of international experience – she completed her PhD at Manchester Metropolitan University eighteen years ago and then worked as a lecturer in Scotland for five years, before returning to teach in France – but it was first time for her to set a foot in Estonia.
"I had been in Finland, but never in Estonia, so was my first visit. I took a ten-day holiday to look around and get to know the place – and it exceeded my expectations!" she says.
Because Frochot's research interests include the study of the tourist experience, with a specific focus on flow, immersion, access conditions and satisfaction, she was quick to evaluate the local experience.
"It was very positive and especially the service provided in the Estonian national parks. I liked how the services were designed in the national parks – how the walks were designed, viewing towers and all these kind of services – I really, really liked that. And obviously, the nature here is amazing – it was really nice to see it," she remembers the impression that was sealing the deal for her.
Happy in Pärnu
Now, working part-time at Pärnu College, she is happy with the working conditions and teaching methods too – and according to Frochot, so are her diverse mix of students.
"I teach a mix of students: Russian, Polish, Georgian, also from Montenegro, Nigeria and Cameroon. The students I have come across are very pleased with the teaching department here. And they are really happy in Pärnu. They are very relaxed in this town," Frochot observes. "It does not have to be a big city for the university, as long as the teaching standards are high – the students have a very happy life in Pärnu."
Frochot notes that Estonia also has an "amazing" culture. "I know that the students would not only enjoy the high level of teaching, but there is plenty to do and see here."
She does concede, however, that the public transport connection could do with an improvement. "It's ok if you use one of the big buses between the large cities, but otherwise it would need an upgrade."
And what about the infamous Estonian shyness?
Frochot admits that people in Estonia are reserved. "They are a little bit shy in a way. But they are not cold or unhelpful – they are very helpful when you ask them."
"Yes, in case you're wondering, it is harder to make Estonian friends than international. Give Estonians some time, though, one day they will let you hug them. I swear it will be one of the best days in your life!" says half-jokingly one of the former international students at the college.
Advanced teaching techniques
When comparing the teaching approach in Estonia and other countries, Frochot says the students here expect a lot of interactivity. "In France, we still teach in an old-fashioned, conventional way. When I come here, I always sense that the students expect lot more interactive teaching methods. Baltic and Nordic countries are more advanced in teaching techniques than we are in Southern Europe."
"The universities in Estonia are trying to use more creative methods to teach. Some lecturers also try to use specific techniques to get people to express their ideas that could be put into practice. Real thinking – how do I get ideas across and how do I get students to express their ideas? This is more advanced than in France," Frochot says, adding that it's important to teach the students how they can use the knowledge on a daily basis.
Frochot's observation is backed by the fact that the international programme at the Pärnu College has proven itself – many graduate students have gone on to manage the top spas, wellness centres and resorts in their respective countries. "I just loved our discussions, group work and teacher involvement. After graduation, I got myself into one of the best spas in my country," a former Polish student at the college recalls.
Recommending Estonia
While not teaching or travelling, Frochot also finds time to look around in Pärnu that has almost 180 years of longstanding traditions in health resorts and hospitality – a primary reason why the tourism management studies are conducted from this town.
"Spas are good and Pärnu has a very nice waterfront, which is very, very pleasant and a very enjoyable place to visit. The Scandinavian-style wooden houses are very welcoming and very warm. What I have also noticed are very good restaurants and craft shops. The Estonian perception of design is amazing – in France we don't have the kind of crafty skills as much as you do. I find it very charming," she praises.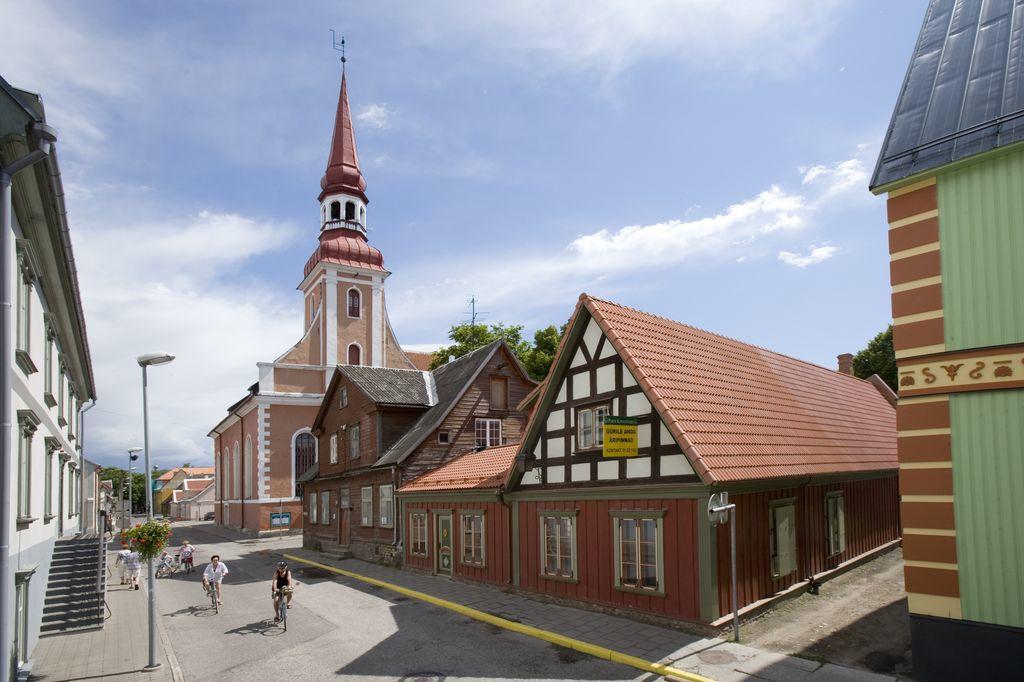 But Frochot is also encouraging. "Estonia is very well presented in Pärnu, but there is also a lot more potential. Estonians should be more confident at what they have and what they do. Because Estonia is small, people here sometimes feel that they cannot do enough because they are too small. They don't want to show off what they do, although they have everything to go for. Estonians should be more confident," she argues.
As a researcher in tourism marketing, Frochot also collaborates with the local staff at the college. "We are looking at the way how consumers will remember the place. If they remember, they'll come back," she says.
In the meantime, she feels very safe and content in Pärnu and doesn't think for a second when asked whether she would recommend Estonia as a place to study. "I would definitely recommend Estonia without hesitation."
Did you know?
Tartu University was once based in Pärnu, due to historical circumstances. From 1699 to 1710, the university that was originally founded by the Swedish king in 1632, was operating in Pärnu, which is considered a phase in the history of the University of Tartu. Due to the Great Northern War, the activities of the university were short-lived, but the impact of the university on the development of Pärnu was significant.
Higher education was once again possible in Pärnu in 1991 when Pärnu Business School opened. The business school was absorbed into the University of Tartu in 1996, becoming what is now known as Pärnu College.
This article is published in collaboration with Study in Estonia. Cover: Students in front of University of Tartu Pärnu College (Gertrud Alatare Photography). Images courtesy of Isabelle Frochot and Pärnu College.