"A good mood makes me get busy and start creating," announces Aldo Järvsoo, one of the most distinctive and celebrated Estonian fashion designers and cofounder of the Embassy of Fashion brand. It really is as simple as that!
Having known Aldo for years, I have never seen him either upset or indeed posing as a tortured genius searching for inspiration. But that doesn't mean the creative spark doesn't burn brighter with Aldo than most…
Life in Estonia asked Aldo about his career and life.
By Kristi Pärn-Valdoja, Mood magazine.
Many male fashion designers recall how they used to sew dresses for their sisters' dolls during childhood. You also come from a large family. Did you also discover your passion for fashion in this way?
I think I did sew something for dolls when I was very young (my sister's, not mine). When I went to art school, I did not have any particular artistic talent and my interests were all over the place in fact. I liked sculpture the most, then drawing, with architecture in third place.
So up until the final year in high school, I was sure that I would go to study either architecture or interior design. But there were several fashion contests held that year and I took part just for fun and won. I was just doing my thing, never thinking that someone might actually want to wear my designs or like them. It was my tutor who prompted me to pursue fashion design in fact.
Did studying fashion at the Estonian Academy of Arts meet up to your expectations?
I believe I got a world-level general arts education there.The Estonian Academy of Arts is a really special school – no other Estonian university has graduates who exhibit all over the world whilst being professors of the school at the same time. The concentration of excellent tutors was and still is amazing.That said, I found studying to be fairly automatic and did not fret about it too much.
How did you find your very first customers?
I was so wrapped up in what I was doing that I was totally surprised when two women came by after a fashion show and asked to buy a dress of mine 'or vest or whatever it is …'
Actually my designs were a bit ambiguous back then. It never ceases to surprise me how new, young designers will constrain themselves in designing, say a top or a blouse, rather than just letting their imagination run riot.
So would you prefer clothes made of paper or plastic bags?
Actually, yes, because that also gives you freedom. No major designer has started out by making a standard item with his or her own ready-made label. Not ones who I find interesting anyway.
Many designers in Estonia dream about making it to Paris. Do you have any similar ambitions?
I have always said to people, I am doing well here, so why are you prompting me to go? If you are good at what you do, your work will find its way to different countries through the Internet anyway. You don't need to participate in trade fairs – it is so yesterday! What matters today are contacts and whether you are any good.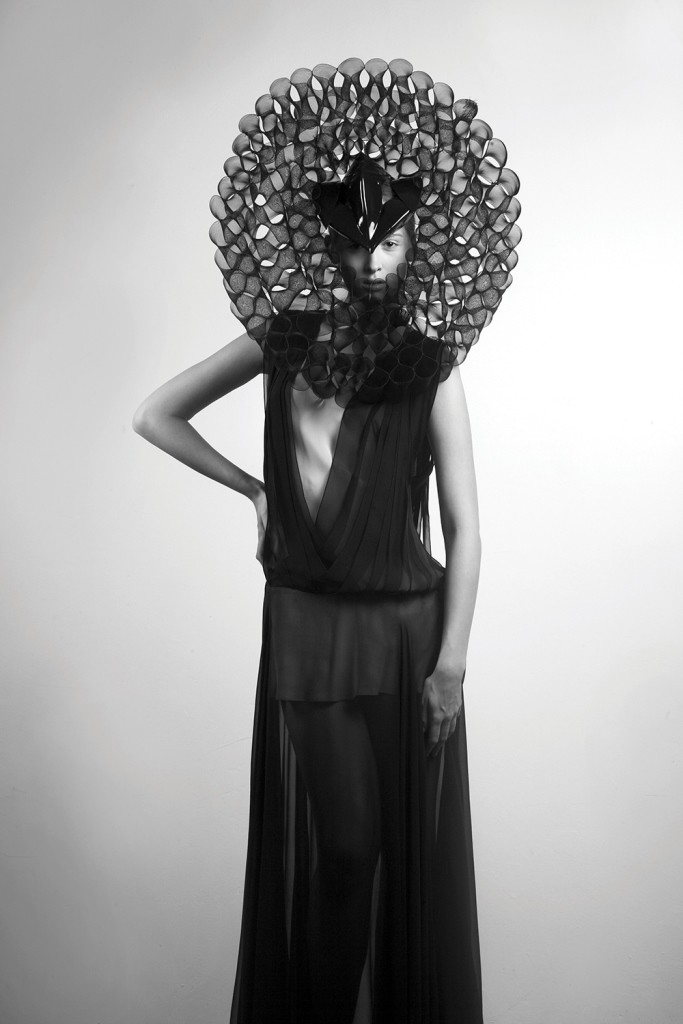 That said, I don't fear I wouldn't get work if I relocated to, say, Milan. But I'm doing well here and would only move if my partner Tanel Veenre, an internationallyacclaimed jewellery designer, were to get an offer elsewhere.
There are many overseas designers who have created great collections which were then promptly bought up by the big houses, so they never really developed their own brand. Where do you stand on this?
I would never sell my soul to a big company! For example when the 'Supernoova' fashion competition took place in Estonia, there were many talent scouts representing big labels looking for young designers. I got some good offers. But that would have meant moving away from Estonia, which I didn't want.
Selling out on the things I really value in life, all of which are free (for instance love and good friends) is not for me – I realised this when I was very young!
But if you got an offer from Yves Saint Laurent, for example?
I would of course at least consider it. But working as a designer for YSL is much tougher than my own working life right now. OK, I would be able to buy myself a summer house in Capri and go there…. like, once a year. Today I can rent a villa there for a week once a year as it is! That situation doesn't improve with retirement, either.
Rifat Ozbek, one of Turkey's top designers, quit just like that when he realised that he would rather enjoy life with his partner instead of going to fashion meetings every morning to discuss what colour is going to be 'in' next season.
So you don't attend those types of meetings?
Sometimes I have to, but I also have those conversations with myself. I design collections and private orders – I don't have my own fashion line as such. And f even if I were to work abroad, I would still do private orders rather than large collections several times a year.
I recently interviewed the supermodel and actress Laetitia Casta, who said that fashion is no longer what it used to be − there are too many trends and collections, too much commerce.
Yes, the frantic pace and the money have really infiltrated the world of fashion and each collection is expected to create a 'wow' effect and really sell.
But it is still a fact that there has been nothing really new in the last three years. With the exception of Miuccia Prada, everyone keeps repeating what has been already successful in my opinion. Alexander McQueen was the last true artist – after his death there has been nothing new in my opinion.
What about 3D printing and new technologies? Does fashion really have to be so high tech as well?
Well, if high tech improves some practical quality of clothes, then it is a good thing. But the main trend in the fashion world mirrors that of the food industry – moving towards using natural, organic materials.
3D printing hardly measures up to this criterion, though in future there may be 'smart' materials which do fit the bill.
Do you sometimes catch yourself thinking that there are so many problems in the world: wars, starvation etc. and here am I working on something not perhaps so essential…
Of course! But I have also seen a woman overcome some form of depression when she gets a beautiful dress. I think that in our society today, beauty really plays a helping role. But I never liked large statement collections.
In the past when designers created some war-theme collections, it even seemed quite exciting. But now the threat of war seems somewhat closer to home, it is no longer a topic to play with. But even in Ukraine, life goes on in some sense – there has been a fashion week there recently!
So you wouldn't send models on to the catwalk in provocative political T-shirts á la Vivienne Westwood?
No, because those are two totally different things. If I wanted to make a difference in the world or do something personally to help, say, Ukraine, I would become a volunteer and not create a fashion collection which has no real input. This is the 'Facebook' phenomenon – it does no real help to like or share a photo of a starving child. But money transfers and real action are what really helps.
To that end, Vivienne Westwood's charity campaigns and work as a spokesperson definitely help more than statements limited to the catwalk.
Karl Lagerfeld has said, "Criticism? If someone says something negative about my work, I either learn something or think that the person has a double chin and fat legs … it is natural that someone ugly would criticize someone successful."  What do you think about his comments?
Yes I totally agree! I have been doing this job for over 20 years now and if I read comments as I did in the past, I would probably notice that it is the same envious and bitter people now who were writing the negative comments back then. Of course I think what I do is good, because I would not knowingly create something which I thought was bad and then put it on the catwalk!
At the end of the day the only opinions I care about are those of my friends.
How do fashion designers in Estonia get on with each other? After all, you are each other's competition!
I don't think of it as competition. We all have our unique signature, our own customers, so we really do get along in fact. There are those customers who want variety, so they do order from all the different Estonian designers.
So I see no reason to be jealous of someone else. Jealousy gets you nowhere.
After all, if someone is doing well, they are probably working from early morning till late, they have created jobs and hired good people, put in all their savings to the project and so on.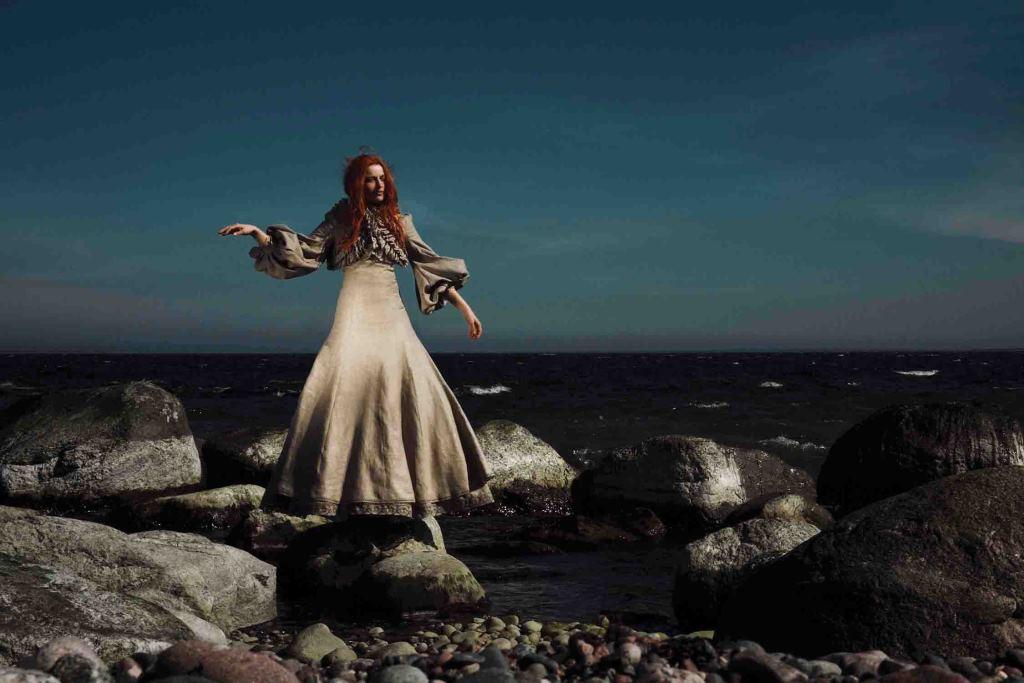 You emphasize the importance of being from Estonia quite a lot. What do you like most about this country?
Home, family, friends. The nature and the people. I find it appealing that Estonia is so compact. It has helped me create my own cosy world here which I love.
Of course that doesn't mean that I don't like to travel and meet people as well!
Do these trips also influence your designs?
Very much so. At the very least I'll get inspiration for materials when I discover interesting fabric shops.
Lately I have really found inspiration in Istanbul, it is just such a cacophony of cultures there! I always take my notebook with when I travel, with the aim of making sketches like 'real' fashion designers, but I never do!
Do you like to watch what people are wearing?
I do when I'm abroad, where people are often more relaxed about what they wear than they are at home in Estonia. For instance in Northern Italy, where people are surrounded by fashion of course, bright colours are the thing. Even the old people wear strident clothes like green trousers and pink sweaters – things which older people in Estonia wouldn't wear in a million years!
So what do you think about the fashion world's seeming love affair with the colour black?
Some people do just look really good in black. Theoretically I am one of them, but besides two suits, I don't actually have anything black in my wardrobe!
[Vogue International Editor] Suzy Menkes wrote a couple of years ago that fashion journalists seemed then to have an unwritten pact to wear black, giving the impression that they were going to a funeral, but nowadays it's quite normal to see fashion journalists who almost preen and parade themselves at a show rather than covering the collection. Have you noticed this?
Yes that is true! On the one hand it is fun to have young, fresh blood on the scene, but on the other if it means people are wearing a uniform of über-trendy clothes just as much as black used to be.
Personally I can't stand uniforms, which destroy any personality the person might have!
The coolest dressers it has to be said are models, perhaps unsurprisingly as they are surrounded by style on their day job, though they tend to relax and where more casual stuff when they're not working – but they still look great!
Do you ever get fed up with the fashion world?
No I don't! Really!! But at the same time I am not totally consumed by it; for example I don't follow style.com. I do buy the Italian Vogue, but I generally like what I do and I am afraid that it would spoil my taste if I saw other people's collections too much and even subconsciously let them influence my designs.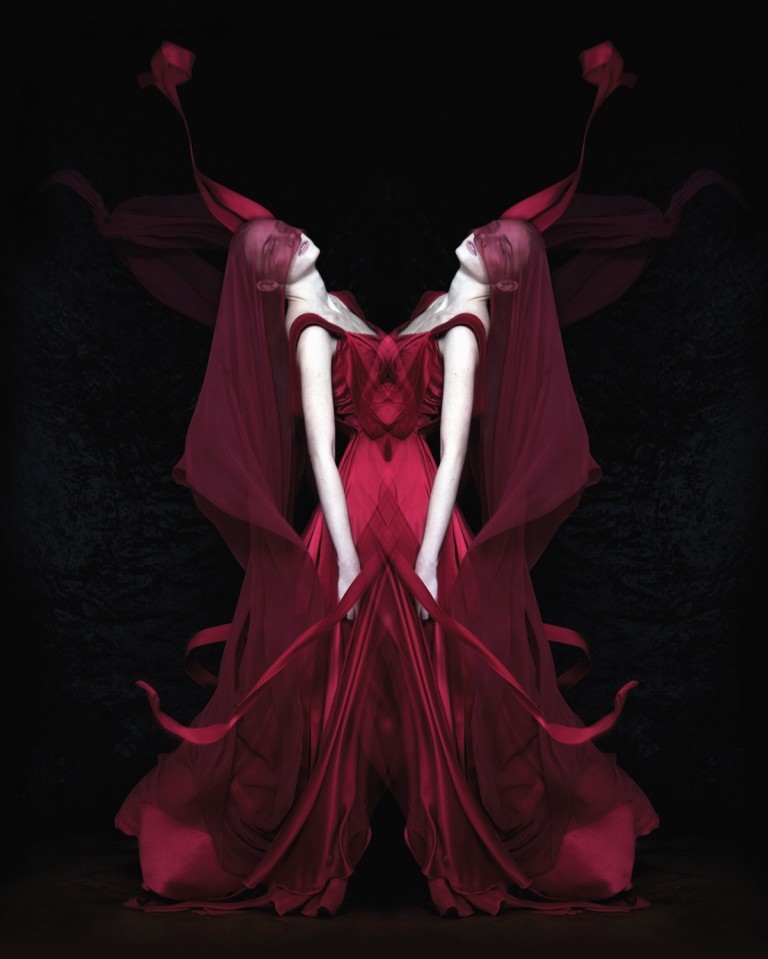 But of course trends are still in the air even if you don't visit fairs or shows – colours are either in or they aren't and tend to predominate in everyone's collections anyway.
Jean Paul Gaultier has said that there is nothing more interesting than bad taste. Do you agree with him?
No, not really. People tuned into good taste are very interesting. The role of the designer is to make a person look and feel fabulous – this is something more based on emotions than anything else.
Thanks to my partner Tanel (Veenre), I am heavily involved in the world of jewellery which is ironically where I see the most interesting fashion designs.
People at these shows see their clothes as a backdrop to either their personality or the jewellery being modelled – pretty much the inverse of the fashion world, and I don't really like the latter approach.
Yves Saint Laurent put ladies into tuxedos, Coco Chanel freed them from the corset. Are there any more fashion revolutions on the horizon?
Nothing new has been invented for a long time. That said, I think that the development of materials mimics that of smartphones. If this trend continues we may reach a situation where winter jackets vary their thickness with the temperature, things like that.
But will these garments then transform into an evening gown, for instance?
No, probably not! But an evening gown which changes colour − that may be feasible in future.
What motivates you at work?
A good mood. Really  ̶  don't laugh! I have not always been such a jolly person, but due to one chronic inherited illness, which manifests itself in depression, I know what pain it is, and so I have learned to avoid depression. I just block it out altogether.
What about life beyond the fashion world?
I like interior design. I also used to love gardening but we never really get the chance to make it to our summer house. And spending time with my friends, of course. That is one of the most important things, I trust and confide in my friends and they return the favour.
Can you name one star of stage and screen who you would love to design a Red Carpet outfit for?
I have always really liked the British actress Tilda Swinton – making something for her would be awesome. But here in Estonia … I have already designed for most celebrities actually.
And whenever there are new cool musicians, actors etc. breaking on to the scene and who you want to meet, you end up meeting them the week after in any case! Just another advantage to Estonia's compact size!
Finally, is there anything in fashion history which you would like to have invented yourself?
No, really not. As I implied, I don't have the jealousy gene at all.
OK let's put it this way, has anything already been invented by someone else which you couldn't live without?
Pins! Honestly! Without them the world would be a much less convenient place…
I
Aldo Järvsoo
Born on 5 December, 1976 in Tallinn.
Studied fashion design at the Estonian Academy of Arts.
In 2009, founded the Embassy of Fashion together with Estonian fashion designers Ketlin Bachmann and Riina Põldroos.
Founder and board member of Estonian Union of Fashion Design.
Creative director at Tallinn Fashion Week.
Has participated in about 50 fashion shows and exhibitions in Estonia, Finland, Sweden Luxembourg, Belgium, Holland, Germany, France, Portugal, Russia, Latvia and Lithuania.
Most significant awards: Annual award of the Estonian Union of Folk Arts and Handicrafts (2010), Kuldnõel award for Best Estonian Fashion Designer 2008 (2009), Grand Prix at fashion design competition 'Supernoova' (2005 and 2006), 1st place at Smirnoff Fashion Awards 98 Estonian pre-round (1998), best young fashion designer – Väike Nõel (1998), 1st place at competitions for young fashion designers in 1994-1995.
i
Cover: Aldo Järvsoo. Photos by Tanel Veenre.
BROUGHT TO YOU BY
I